OCUP2 UML 2.5 Certification - Foundation Exam Preparation Training Course
OCUP2 UML 2.5 Certification - Foundation Exam Preparation Training Course
Primary tabs
Duration
21 hours (usually 3 days including breaks)
Requirements
Good knowledge of any object-oriented language or basic UML knowledge is required.
Overview
OCUP2 Content Developer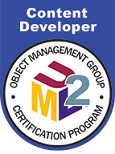 NobleProg has official OMG OCUP 2 Content Developer status, which means that our course outlines and training materials were developed by the same experts who prepared questions for OCUP 2 exams.
Audience
Developers, programmers, business analysts, project managers, software architects, testers, people responsible for documentation or anyone involved in the software development process.
Objectives
Prepares you to work with the most commonly encountered UML elements
Teaches you how to create simple UML models
Prepares you to be a member of a UML Development Team
Course Outline
Why we model
The Class Diagram
Common Structure
Type
Dependency
Namespace
VisibilityKind (public, private, protected)
MultiplicityElement
Constraint
Comment
Simple Classifiers
PrimitiveType
DataType
Enumeration
EnumerationLiteral
Interface
InterfaceRealization
Signal
Reception
Structured Classifiers
Classification
Generalization
Feature
Structural Feature
Behavioral Feature
Property
Operation
Parameter
AggregationKind (Composition, Aggregation)
Values
LiteralBoolean
LiteralInteger
LiteralReal
LiteralUnlimitedNatural
LiteralNull
LiteralString
Opaque Expression
The Object Diagram
InstanceSpecification
Slot
The Package Diagram
Packages
The Use Case Diagram
Use Cases
The Activity Diagram
Activities
Activity
ActivityFinalNode
ActivityParameterNode
ControlFlow
InitialNode
DecisionNode
FlowFinalNode
ForkNode
JoinNode
MergeNode
ObjectFlow
ObjectNode
Actions
Action
CallBehaviorAction
CallOperationAction,
SendSignalAction
AcceptEventAction
Pin
InputPin, OutputPin
OpaqueAction
The Sequence Diagram
Interactions
Interaction
OccurrenceSpecification
ExecutionSpecification
ExecutionOccurrenceSpecification
DestructionOccurrenceSpecification
Lifeline
Message
MessageOccurrenceSpecification
MessageSort
MessageEnd
Common Behavior
CallEvent
SignalEvent
Trigger
OpaqueBehavior
The State Machine Diagram
State Machines
StateMachine
State
Transition
Pseudostate: choice, junction, initial
FinalState
Guaranteed to run even with a single delegate!
Public Classroom
Participants from multiple organisations. Topics usually cannot be customised
Private Classroom
Participants are from one organisation only. No external participants are allowed. Usually customised to a specific group, course topics are agreed between the client and the trainer.

Request quote
Private Remote
The instructor and the participants are in two different physical locations and communicate via the Internet

Request quote
The more delegates, the greater the savings per delegate. Table reflects price per delegate and is used for illustration purposes only, actual prices may differ.
| Number of Delegates | Public Classroom | Private Remote |
| --- | --- | --- |
| 1 | 2945PLN | 6800PLN |
| 2 | 2748PLN | 4675PLN |
| 3 | 2682PLN | 3967PLN |
| 4 | 2649PLN | 3613PLN |
Where would you like to take it?
When are you looking to take it?
| Location | Date | Course Price [Remote/Classroom] |
| --- | --- | --- |
Cannot find a suitable date? Choose Your Course Date >>
Too expensive? Suggest your price
Course Discounts
| Course | Venue | Course Date | Course Price [Remote/Classroom] |
| --- | --- | --- | --- |
| Creating and delivering presentations in Power Point (social skills workshop) | Poznan, Garbary 100/63 | Thu, 2016-10-27 09:00 | 3346PLN / 2073PLN |
| Agile Project Management with Scrum | Kraków, ul. Rzemieślnicza 1 | Wed, 2016-11-02 09:00 | 3386PLN / 1929PLN |
| Understanding Windows Communication Foundation (WCF) | Szczecin, ul. Małopolska 23 | Wed, 2016-11-02 09:00 | 10266PLN / 3611PLN |
| Python Programming | Szczecin, ul. Małopolska 23 | Mon, 2016-11-07 09:00 | N/A / 5434PLN |
| Agile Project Management with Scrum | Poznan, Garbary 100/63 | Mon, 2016-11-07 09:00 | 3386PLN / 1529PLN |
| Business Analysis, BABOK V3.0 and IIBA Certification Preparation | Katowice ul. Opolska 22 | Mon, 2016-11-07 09:00 | 9405PLN / 5753PLN |
| Adobe InDesign | Lublin, ul. Spadochroniarzy 9 | Mon, 2016-11-07 09:00 | 1881PLN / 1327PLN |
| Administration of Linux System | Olsztyn, ul. Kajki 3/1 | Tue, 2016-11-08 09:00 | 3861PLN / 2681PLN |
| SQL Fundamentals | Warszawa, ul. Złota 3/11 | Wed, 2016-11-09 09:00 | 3663PLN / 1510PLN |
| Adobe Illustrator | Katowice ul. Opolska 22 | Wed, 2016-11-09 09:00 | 2871PLN / 1848PLN |
| CP100A: Google Cloud Platform Fundamentals | Gliwice ul. Karola Marksa 11 | Thu, 2016-11-10 09:00 | 7613PLN / 2657PLN |
| Excel For Statistical Data Analysis | Warszawa, ul. Złota 3/11 | Mon, 2016-11-14 09:00 | 2673PLN / 1291PLN |
| Visual Basic for Applications (VBA) in Excel - Advanced | Białystok, ul. Malmeda 1 | Mon, 2016-11-14 09:00 | 3455PLN / 2202PLN |
| Prototypowanie interaktywnych makiet - Axure | Szczecin, ul. Małopolska 23 | Mon, 2016-11-14 09:00 | 5445PLN / 2101PLN |
| Social Media - facebook, twitter, blog, youtube, google+ | Gdynia, ul. Ejsmonda 2 | Mon, 2016-11-14 09:00 | 1881PLN / 1102PLN |
| Apache Web Server Administration | Kraków, ul. Rzemieślnicza 1 | Tue, 2016-11-15 09:00 | 4732PLN / 3177PLN |
| SQL in MySQL | Gdynia, ul. Ejsmonda 2 | Thu, 2016-11-17 09:00 | 2851PLN / 1413PLN |
| OCUP2 UML 2.5 Certification - Intermediate Exam Preparation | Wroclaw, ul.Ludwika Rydygiera 2a/22 | Thu, 2016-11-17 09:00 | 5148PLN / 2175PLN |
| Creating and managing Web sites | Kraków, ul. Rzemieślnicza 1 | Mon, 2016-11-21 09:00 | 5841PLN / 3298PLN |
| Stress management | Gdynia, ul. Ejsmonda 2 | Mon, 2016-11-21 09:00 | 5148PLN / 1730PLN |
| Angular JavaScript | Katowice ul. Opolska 22 | Mon, 2016-11-21 09:00 | 5940PLN / 3380PLN |
| Agile w projektach zdalnych | Katowice ul. Opolska 22 | Tue, 2016-11-22 09:00 | 5049PLN / 1962PLN |
| Effective working with spreadsheet in Excel | Rzeszów, Plac Wolności 13 | Thu, 2016-11-24 09:00 | PLN / 767PLN |
| ITIL® Foundation Certificate in IT Service Management | Łódź, ul. Tatrzańska 11 | Mon, 2016-11-28 09:00 | 4554PLN / 2470PLN |
| Oracle SQL for beginners | Poznan, Garbary 100/63 | Mon, 2016-11-28 09:00 | 4752PLN / 2133PLN |
| Visual Basic for Applications (VBA) for Analysts | Kielce, ul. Warszawska 19 | Tue, 2016-11-29 09:00 | 2772PLN / 1974PLN |
| Test Automation with Selenium | Warszawa, ul. Złota 3/11 | Mon, 2016-12-05 09:00 | 7722PLN / 3174PLN |
| Graphic techniques (Adobe Photoshop, Adobe Illustrator) | Wroclaw, ul.Ludwika Rydygiera 2a/22 | Tue, 2016-12-06 09:00 | 4851PLN / 2740PLN |
| Angular JavaScript | Warszawa, ul. Złota 3/11 | Tue, 2016-12-06 09:00 | 7500PLN / 3300PLN |
| Test Automation with Selenium | Gdańsk, ul. Powstańców Warszawskich 45 | Tue, 2016-12-06 09:00 | 7722PLN / 3624PLN |
| Programming in WPF 4.5 | Kraków, ul. Rzemieślnicza 1 | Tue, 2016-12-06 09:00 | 6435PLN / 2893PLN |
| Docker and Kubernetes | Gdańsk, ul. Powstańców Warszawskich 45 | Wed, 2016-12-07 09:00 | N/A / 4989PLN |
Upcoming Courses
| Venue | Course Date | Course Price [Remote/Classroom] |
| --- | --- | --- |
| Warszawa, ul. Złota 3/11 | Mon, 2016-11-14 09:00 | 6800PLN / 2945PLN |
| Białystok, ul. Malmeda 1 | Mon, 2016-11-14 09:00 | 6800PLN / 3395PLN |
| Toruń, ul. Żeglarska 10/14 | Tue, 2016-11-15 09:00 | 6800PLN / 3245PLN |
| Gdańsk, ul. Powstańców Warszawskich 45 | Wed, 2016-11-16 09:00 | 6800PLN / 3395PLN |
| Opole, Wladyslawa Reymonta 29 | Tue, 2016-11-22 09:00 | 6800PLN / 3695PLN |